You have two main options when choosing tiles for your roof. These are an interlocking tile, and a plain tile. However when it comes to choosing the right tile for your roof, we will happily give you our professional advice on which product to choose to suit your property. All of our brand new tiled roofs are laid in accordance with BSS standards, codes of practice and come with a 10 year assurance backed guarantee.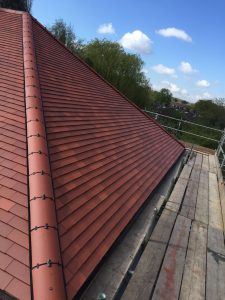 Tiled roofs when installed professionally are extremely hard wearing and in the long run can save you money. However, when these tiles are not being placed by a professional, you can incur extra costs for repair. If you are considering having any type of roof built or repaired in your home or building give us a ring on 020 7733 5265 and we will be more than happy to give you a quote.
Take a look at some of our latest new roof projects here, all of which have been carried out in the Herne Hill and Dulwich area.